time to talk™
At Caldecote, we value the importance of communication which is why we fully support 'time to talk'™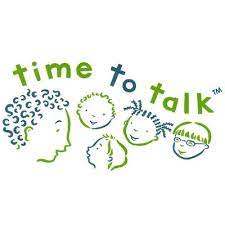 This is Warwickshire's strategy for supporting the development of speech, language and communication skills of babies and young children in Children's Centres, Early Years and Childcare settings.
Their vision is to create and celebrate opportunities for all children to achieve their potential in speech, language and communication, working together with and in response to the local needs of local communities.
At Caldecote, we have three 'time to talk'™ Champions, Leanne, Sophie and Tiffany, who are trained to assess, support and develop the language skills of all children in the setting. They screen the children using the 'WellComm' tool, then work with key people and families to offer targeted support and advice where needed. Once screened, they will inform you of the outcome and offer additional support as documented below.
More information about this can be found at the 'time to talk'™ website. Click the image to have a look...